Chairman's Message

---

"Education is not the amount of information that is put into your brain; education should form the character, intellect of mind and enable the students to stand.

Format
Secretary's Message

---

Swami Vivekananda defines education as 'the manifestation of the perfection already in man.' The aim of education is to manifest in our lives the perfection,
Contact For Diploma Admission-2020

---

Mr.B.Bal:9439881137

Mrs.R.Garnaik:9938414079

Mr.Sanjay Panigrahi:6370827010

Mr.Srikant Behera: 7894465733

Divya P. Sahoo: 7735490681
Welcome to our Website!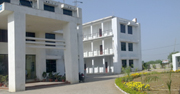 Narayani Institute of Engineering & Technology (NIET) was setup as a part of the self powered plans of Narayni Education Trust,Angul,in 2009 with the objectives to erect a truly world class institute in the rural part where students from the vicinity would be benefited from the services that matched the local as well as global industrial demands for technocrats.The institution is spread over a sprawling campus with calm surroundings, creating magnificent atmosphere for technical education, situated at Arahat,
More...
Announcement